MAKING HOMES SAFER WITH PROPER SECURITY LIGHTING IN FARMINGTON, NM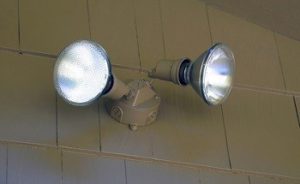 For you and your family, safety is everything, especially in your home. After all, just consider how much time you'll spend there. Quite a lot, right? We'd wager so. And for that reason, it's vital that you ensure that your home is just about the safest place in your life. But how can you go about doing that?
There are quite a few things, actually. You can be sure to have good, sturdy locks on your doors and windows. You can get an alarm system in case anyone manages to break through those locks. And of course, you can get security lighting to help catch and deter prowlers well before they can set those alarms off.
Indeed, security lighting is a great way to ensure that you and your family stay as safe as possible in the Farmington area by alerting you to the presence of any prowlers who might be about. If you want a quality security lighting system installed on your property, you'll need to contact a reliable electrician.
And if you live in or around the Farmington area, then Fixmatic Electric is the electrician to call for all your lighting service needs! We've provided residents in the area with top-quality electrical work, including security lighting installation, for over a decade now, so you can count on us to have the experience and know-how to provide you with the best security lighting to keep your family as safe as possible!
Keep the Critters at Bay
Prowlers aren't always people. Sometimes, they're a little cuter than that, and sometimes they don't necessarily pose a threat to you — just your garbage can and maybe your garden.
We're talking about the furry, four-legged friends that like to roam about your home after dark. Sure, they don't pose the same threat to life, limb, and property that a bipedal baddie might, but they're certainly a nuisance in their own way. They like to munch on your plants, knock over your outdoor decor, and ravage your garbage can when you forget to put it away.
If you want to help deter these little buggers while also keeping your family safe from the much more harmful buggers that might seek to do you some REAL harm, just call up Fixmatic Electric for a quick and quality home security lighting installation.
Keeping your family safe is important. And keeping our furry friends from upending your property is ALSO important. To help ensure both of those important needs are met, just get security lights installed by the experts at Fixmatic Electric.